Park Creative Agency was tasked to come up with a guerrilla-style marketing launch strategy for The Rolling Stones Concert annoucement.
this was big! We needed to make the annoucement go viral as it would be the only Canadian show on the stones 2019 no filter tour.
SERVICES:
STRATEGY

DESIGN + BUILD

PROJECTION MAPPING

PROJECT MANAGEMENT
the project had 3 components:
TEASE THE CONCERT ANNOUNCEMENT A FEW DAYS BEFORE AND 'HINT' THAT THE ROLLING STONES WERE COMING TO CANADA.

ADVERTISE THE OFFICIAL CONCERT ANNOUNCEMENT ACROSS GREATER TORONTO AREA.

CONTINUE THE MOMENTUM BUILT FROM THE ANNOUNCEMENT INTO THE TICKET ON-SALE DATE TO HELP CONVERSION.
our strategy:
REACH A LARGE AUDIENCE AND MAXIMIZE CAMPAIGN EXPOSURE.

MAKE THE ANNOUNCEMENT GO VIRAL.

KEEP IT GRASSROOTS, EDGY & ROCK & ROLL.
OVERVIEW:
PARK CREATIVE WANTED TO BUILD A GUERRILLA MARKETING SOLUTION THAT FELT ROCK & ROLL AND ALIGNED WITH THE ROLLING STONES BRAND. KNOWING THAT WHATEVER WE CREATED, IT NEEDED TO BE SEEN BY LOTS OF PEOPLE FOR IT TO GO VIRAL. THE TEAM CAME UP WITH THE IDEA OF GIANT CUSTOM DISPLAYS OF THE ICONIC LIPS AND MOBILE PROJECTION MAPPING. TOGETHER, THEY CHECKED ALL THE BOXES.
TO KICK OFF THE PROJECT AND CREATE A BUZZ, WE BUILT AND PLACED MULTIPLE 3D STATUES OF THE ROLLING STONES LOGO AROUND TORONTO IN TARGETED HIGH-TRAFFIC AREAS DAYS BEFORE THE CONCERT ANNOUNCEMENT TO TEASE WHAT FANS ONLY HOPED COULD BE A STOP TO THE GTA ON THE STONES 2019 NO FILTER TOUR. GAINING WELL OVER 115 MILLION IMPRESSIONS OVER THE FIRST FEW DAYS THE DISPLAYS STARTED TRENDING ON SOCIAL, APPEARING IN THE NEWS AND BEING TALKED ABOUT ONLINE THROUGH VARIOUS MEDIA OUTLETS.
QUICKLY, SPECULATION STARTED BUZZING AMONGST FANS.
TO CONTINUE THAT MOMENTUM AND MAKE THE BIG BIGGER, WE USED MOBILE PROJECTION MAPPING TECHNOLOGY AT NIGHT TO CONTINUE OUR GRASSROOTS STRATEGY AND PROJECTED ON VARIOUS BUILDINGS AROUND TORONTO TO PROMOTE THE SHOW. LOCATIONS INCLUDED: YONGE & DUNDAS, YORKVILLE, SUMMERHILL, ROGERS CENTRE, ANNEX, DISTILLERY DISTRICT AND MORE. WE WERE ABLE TO MAP OUT OUR PROJECTIONS ON A VARIETY OF STRUCTURES & FACADES, SOME AS BIG AS 7 STORIES TALL! WHICH COULD EASILY BE SEEN AROUND THE DOWNTOWN CORE & GARDINER EXPRESSWAY.
BLENDING THESE TWO GUERRILLA-STYLED MARKETING TACTICS HELPED US KEEP THE ROLLING STONES CONVERSATION TRENDING AT ALL HOURS OF THE DAY, ENSURING WE HIT THE RIGHT AUDIENCE WHILE CONTINUING TO BUILD DEMAND & INCREASE AWARENESS FOR THE ROLLING STONES SUMMER CONCERT AT BURL'S CREEK, ONTARIO.
Displays
CUSTOM BUILT 3D DISPLAYS OF THE ICONIC ROLLING STONES LIPS
PARK CREATIVE WANTED TO CREATE SOMETHING THAT WAS BIG LIKE THE ROLLING STONES. SOMETHING THAT YOU COULDN'T MISS, WAS EASILY RECOGNIZABLE AND WOULD ATTRACT USERS OVER TO IT TO ENGAGE, SHARE + TAKE PHOTOS WITH.
WE PULLED INSPIRATION FROM THE HIGH-END ART DISPLAYS OF THE NO FILTER TOUR LIPS IN THE UK, BUT WANTED TO CREATE A LOCAL VERSION THAT FELT A BIT MORE ROCK AND ROLL. WE SKETCHED OUT THE PLANS, DESIGNED THE RENDERINGS AND THE TEAM BUILT THE 3D DISPLAYS OF THE ICONIC LIPS ALL IN-HOUSE IN OUR PRODUCTION FACILITY IN WEST HAMILTON. WE THEN WORKED WITH THE CITY, EVENT COORDINATORS & LANDLORDS TO GAIN ACCESS TO PREMIUM LOCATIONS AROUND TORONTO AND BEGAN DROPPING THEM OFF. LOCATIONS INCLUDED: YONGE + DUNDAS, UNION STATION, EATON CENTRE, YORKVILLE, SHERWAY GARDENS & MORE. TOTAL IMPRESSIONS ON THE STATUES SURPASSED 82 MILLION.
THE STATUES OF THE ROLLING STONES LIPS STOOD OVER 8-FEET TALL AND WEIGHED 1,200 POUNDS! EVERY INCH WAS CUSTOM-BUILT FROM WOOD, CRAFTED PIECE-BY-PIECE, ASSEMBLED AND HAND PAINTED. THE END RESULT WAS A BEAUTIFUL EYE-CATCHING DISPLAY. IT WAS SHARED VIRALLY ON ALL SOCIAL CHANNELS, STOPPED USERS ON FOOT IN HIGH-TRAFFIC AREA'S TO TAKE PICTURES WITH IT AND EVEN SHOWED UP ON VARIOUS MEDIA OUTLETS ACROSS CANADA (ETALK, CTV, YOUR MORNING, CITYNEWS, ETC).
ON THE DAY OF THE CONCERT, THE STATUES WERE USED AT THE FESTIVAL GROUNDS FOR FANS TO INTERACT & TAKE PHOTOS WITH IN THEIR ROLLING STONES GEAR WHICH HELPED CREATE ADDITIONAL SOCIAL CONTENT FOR THE SHOW AND A FUN ACTIVATION FOR CONCERTGOERS.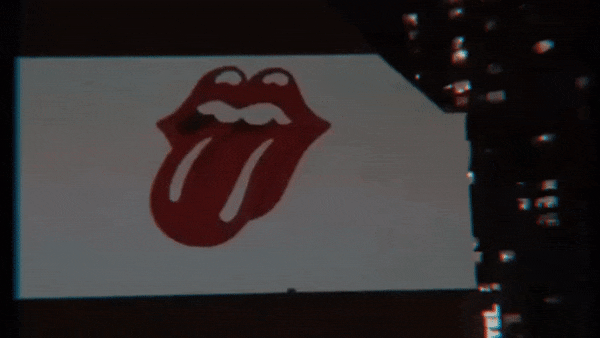 #STONESNOFILTER
TORONTO, ON
MOBILE Projection Mapping
pop-up DIGITAL ROLLING Stones BILLBOARDS around TORONTO
CONTINUING WITH OUR GUERRILLA-STYLE APPROACH AND THE GOAL OF INCREASING AWARENESS, PARK CREATIVE SET FORTH WITH A HIGH-ENERGY STRATEGY TO HIT THE STREETS, JUMP IN VEHICLES AND MOBILE PROJECTION MAP OUT OF VANS AROUND KEY HIGH-TRAFFIC/ICONIC LOCATIONS IN TORONTO. UTILIZING TARGETED STREET CORNERS, VACANT PARKING LOTS ANF PAST EXPERIENCE THE TEAM PLANNED OUT A STRATEGIC ROUTE AROUND THE CITY HITTING MULTIPLE FACADES, STRUCTURES AND LOCATIONS EACH NIGHT. AREAS INCLUDED: YONGE & DUNDAS, YORKVILLE, SUMMERHILL, ROGERS CENTRE, ANNEX, DISTILLERY DISTRICT AND MORE.
THE TEAM DESIGNED AND BUILT TWO VERSIONS OF CONTENT FOR OUR PROJECTION MAPPING SOLUTION. THE FIRST ACTED SOLELY AS A TEASER AND WAS USED BEFORE THE ANNOUNCEMENT - IT SHOWED UP AROUND TORONTO ON BUILDINGS AND SHOWCASED A GIANT ROLLING STONES LOGO WITH THE CONCERT DATE BELOW THAT TRANSITIONED INTO QUICK CLIPS OF THE BAND PERFORMING LIVE TO BUILD AWARENESS & CATCH BY-PASSERS ATTENTION. THERE WAS NO CALL-TO-ACTION, NO WHERE TO FIND INFORMATION, WHICH ELEVATED THE DESIRE FOR FANS TO KNOW WHAT WAS GOING ON. THE SECOND VERSION WAS USED AFTER THE OFFICIAL ANNOUNCEMENT, HAD CTA's AND WAS AN ENHANCED COPY OF THE FIRST VERSION WITH MORE DETAILS ABOUT THE SHOW (LOCATION, SPONSORS, WHERE TO GET TICKETS, ETC.), LONGER RUNTIME AND ENDED WITH ADDITIONAL LIVE FOOTAGE OF THE BAND ROCKING OUT ON STAGE TO GET USERS EXCITED, ENGAGED + WANTING TO PURCHASE TICKETS.
IT'S ONLY
ROCK N ROLL
BUT I LIKE IT